Tubular Heaters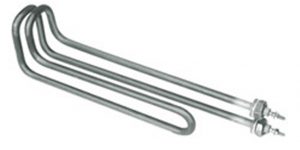 Tubular heaters are a reliable, economical, and versatile option when looking for exceptional heat transfer for applications used in heating liquids, air, or metals. Tubulars can be used in a large variety of applications, including those with size restrictions for small spaces. They allow for even heat distribution as well as a high dielectric strength. Tubular heaters can be formed into a variety of patterns. thermo will provide prototypes of tubular heaters with a short lead time.
Features and Benefits:
Moisture resistant
Even heat distribution
High Dielectric Strength
Cost efficient
Wide range of diameters available
Tubular heaters are constructed using a copper, steel, stainless steel, or Incoloy® sheath material. A MgO insulation is used to extend the life of the heater as well as allow for exceptional heat transfer and dielectric strength. The use of a silicone resin seal allows for moisture resistant. A wide range of terminal types and diameters are available.
Typical applications for tubular heaters include medical equipment, food service industries, plastics, oil industries, semiconductors, and enclosures.
Tubular Heaters are a UL recognized construction, passing UL's extensive safety testing process.