Silicone Rubber Heaters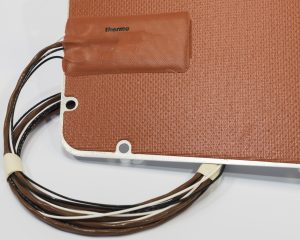 Silicone Flexible Rubber Heaters can be made in a wide variety of shapes, sizes and thicknesses, and are well suited for robust applications and are moisture and chemical resistant. Silicone heating elements are lightweight and flexible, and are capable of performing at surface temperatures of up to 450°F (230C).  Silicone heaters can easily be designed to accommodate a variety of components such as thermostats, thermal fuses, thermocouples, thermistors, RTDs, or specialty wiring harnesses.
Silicone heaters can easily be bonded to equipment at your facility by the use of adhesives, fasteners or RTV.  thermo also specializes in factory vulcanization, a process in which the heater is bonded directly to a part using heat and pressure, saving the customer time while offering superior bonding to flat and geometrically-complex surfaces.
Our Manufacturing Process
Thermo manufactures silicone heaters using either etched foil or resistance wire.  Foil silicone heating elements are manufactured using a metallic foil that is laminated to a silicone rubber sheet. The sheet is then printed with the desired circuit pattern then chemically etched, leaving the printed pattern. Another layer of silicone rubber is then vulcanized over the top of the circuit.  In wire wound heating elements, one to five strands of resistance wire is wound together then formed in the desired circuit pattern on top of a layer of silicone rubber. Another layer of silicone rubber is placed over the element to seal the heater.
Thermo offers a wide range of options to ensure that the desired performance characteristics are met.  Thermostats, thermistors, specialty lead configurations, insulating foam layering, dual-voltage output, registration holes and cutouts are just a few of the ways thermo can customize heaters to meet your specific needs.
Tested & Approved
Thermo's silicone heaters have been safety tested and approved, and they are UL recognized under the UL file number E251285.