Optically Clear Heaters
with KODAK™ Highly Conductive HCF film/Estar base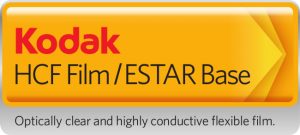 Optically Clear Heaters manufactured by Thermo using KODAK™ Highly Conductive HCF film/ESTAR base provide the clear solution under rugged environmental conditions. With a highly flexible and thin construction, the heaters ensure an optically clear, user-friendly interface on displays, security cameras, outdoor gauges, goggles, windshields and various automotive and motive displays.
These heaters can be utilized with a variety of custom wire harnesses, thermistors, thermostats, and other value-added components to provide a complete solution for heating transparent surfaces.
Features and Benefits
– Optical grade polyester base with 90%+ Light transmittance
– Dual-sided deposition for low profile and non-fracturing in flexible applications
– Customizable geometry
– Excellent heat uniformity
Thermo's Optically Clear Heater starts with a superior quality HCF Film/ESTAR Base produced by Kodak. The required bus bars are printed onto the perimeters of the sheet or roll and then oven dried to "set" the element. The circuits are then die cut apart, and the terminals for lead attachment are added on. An adhesive is applied to the back of the element so that it can easily be applied to the final product.
Typical applications for Thermo's Optically Clear Heaters include but are not limited to ruggedized displays, military (avionics, eyewear), precision optics, security cameras, and medical devices.